I am a Greyhound (Italian Greyhound) Addict. I adopted my first Greyhound in August of 2004 (first Iggie in 2009) and have been hooked ever since. I worked with a Greyhound Adoption group in the Dallas area for about 5 years doing various volunteer opportunities. In August of 2009 a small group of us started another Greyhound Adoption group called 'Texas Adopt a Greyhound Society, Inc' or TAGS.

I love making Martingale and Tag collars for my own Greyhounds and Iggies. I also make some items to donate to raise money for adoption groups. I have people ask me where I get the collars my greyhounds wear, so I thought making them for others would be a way for me to share my love of these dogs.
Thanks for stopping by - hope you find something for your very special hound(s)!

Some of my Favorite Links

Victoria Peak Trading Company, LTD.
Dogs love (made in the USA) Victoria Peak dog beds for their super-soft cushion, whose comfort and gentle support is a function of the poundage of polyester fiber in each one. No other manufacturer offers anything remotely like it.


Northcoast Greyhounds' product line has expanded to the ever-changing assortment of greytstuff, and has allowed us to contribute over $200,000 to greyt causes in 8 years time.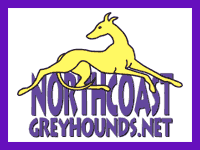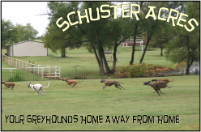 Schuster Acres: Your Greyhounds Home Away from Home!!!
Greyhound pet sitting in the country. Never feel guilty about leaving your Greyhound when you go on vacation - take them to the country to spend time with Auntie Kris!
Kris offers a home away from home service for your Greyhounds while you take that much needed vacation, long weekend, or business trip.